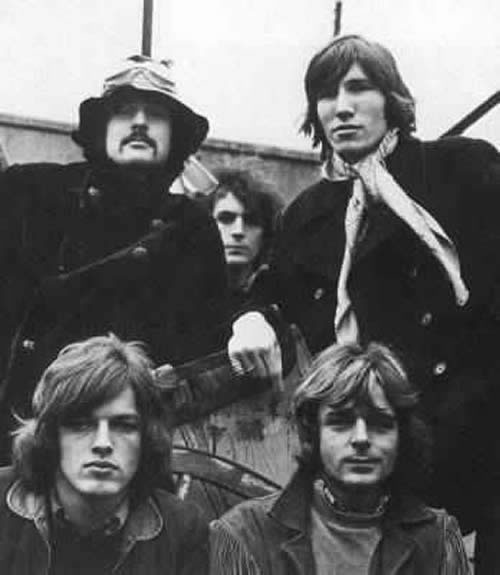 Pink Floyd is the greatest rock band of all time! That's been my opinion since I was first introduced to the band … sometime in the late 1970s.
The band began in 1965 and ended in 2014. The band's history is long and complex, but in this post I want to tell a condensed version of their story in a dispensationalist way by rightly dividing their discography.
Wikipedia tells us that their discography
consists of fifteen studio albums, three live albums, nine compilation albums, four box sets, five extended plays, and twenty-seven singles.
That's a lot of material and it doesn't include any of the various solo works and side projects of the five band members. I will consider only the band's 15 studio albums. Plus three solo albums. That's 18 studio albums and I will consider them three at a time in six dispensations.

1. Barrett-era.
2. The Narrow Way.
3. The Hard Way.
4. Peak Floyd.
5. Waters-era.
6. Gilmour-era.

The first dispensation is Barrett-era Pink Floyd.
The short-lived original line-up consisted of Nick Mason (drums), Roger Waters (bass and vocals), Richard Wright (keyboards and vocals), and Syd Barrett (guitar and lead vocals). Syd Barrett was the band's front man and Pink Floyd was Syd Barrett's band.
On their first album, Piper at the Gates of Dawn (recorded in 1967), all songs except one are written or co-written by Barrett.
But on their second album, A Saucerful of Secrets (recorded in 1967/68), only one song is written by Barrett and he plays on only three tracks. By the time of the album's release, Barrett was gone from the band, having been replaced by David Gilmour.
So it's fair to say that only their debut album counts as Barrett-era Pink Floyd. But Barrett subsequently released two solo albums, The Madcap Laughs (recorded in 1968/69) and Barrett (recorded in 1970). Are they rightly considered Pink Floyd albums? They feature David Gilmour, Roger Waters and Rick Wright in some capacity, and, of course, Syd Barrett. So I would say yes.
[under construction]